Check this video to see how to set up delivery zones, how food clients see the delivery form, and how to access the delivery maps: 
---
Step-by-step instructions
Go to admin -> Setup -> Services & opening hours -> Delivery.

On the right-hand side add and edit delivery zones.

To add a delivery zone, click on "Add another zone?" The delivery zones can be circles or polygons - the restaurant can draw the zone themselves.

To edit an existing zone, click on the downward-pointing arrow next to the zone name.
For every delivery zone, the restaurant can add a different default minimum order value and delivery fee.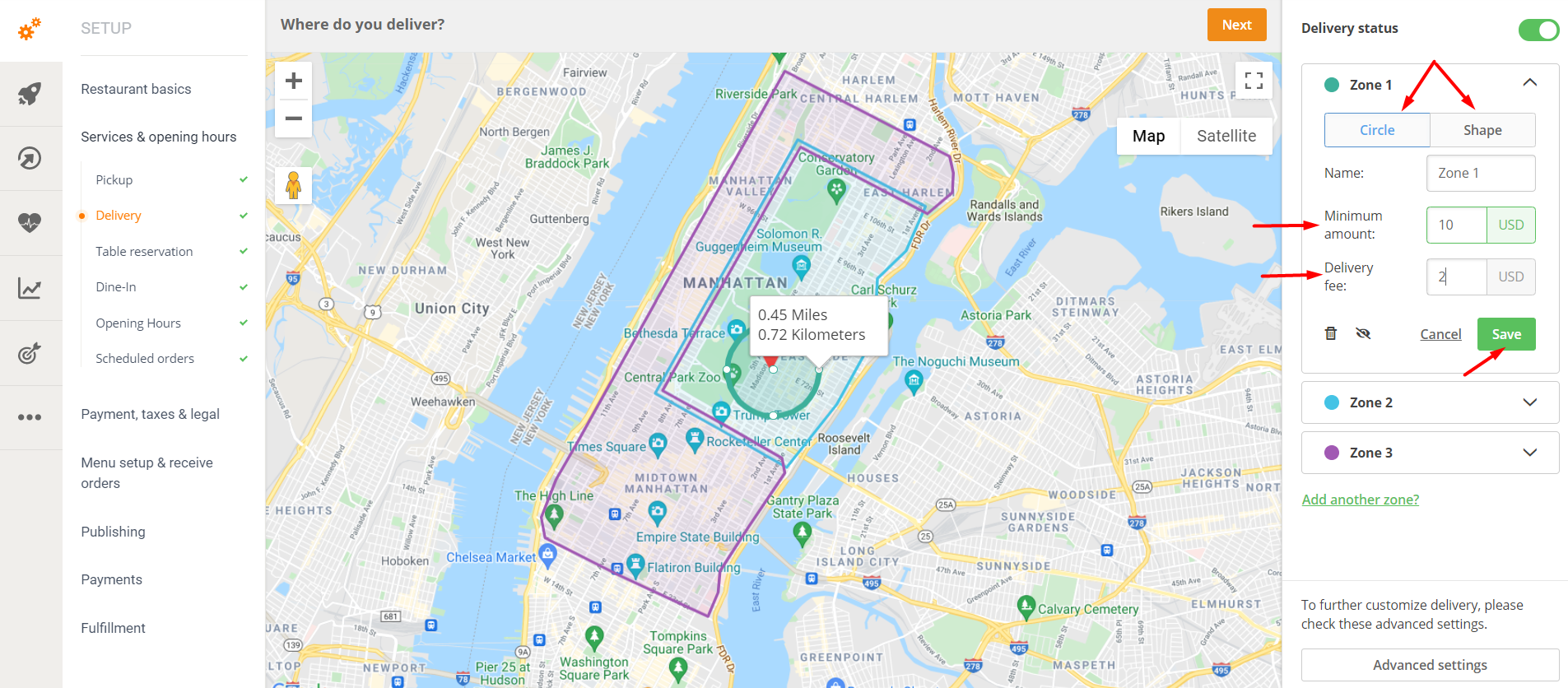 So this is where the restaurant can set the default minimum order value and default delivery fee (for example, minimum order - USD10, delivery fee - USD2).
The restaurant can also set different, custom colors for each delivery zone. The newly set color will be visible only after the settings for that specific delivery area are saved.
What about offering free delivery?
If the restaurant wants to roll a "free delivery for orders higher than USD X" promo, they need to create a "free delivery deal" using our promo engine. To do that:
Go to admin -> Marketing -> Promotions -> Self-made promos.

Click on "Add promo deal."
Choose "Free delivery" from the list.
In the second step, the restaurant will be able to set a minimum order value for this promo independent of the default one they set in the delivery zone map.
In the third step, the restaurant can choose the delivery zones they want to target with this promo.
---
How to disable the delivery service
To disable the delivery service, please go and uncheck it in the service tab and then "Next":
If the service is temporarily unavailable, consider pausing it instead.